3. Development in BASE¶
You can find a video overview of this section here.
3.1. Base Tables - The Design¶
This section, I'll be discussing some of the BASE layer implementations, in preparation of our data mart.
However, what is a BASE layer?
BASE layer is the intial landing area for our Data Warehours modeling procedure for our Data Nart. It's the "raw" layer for ingesting data, in its own purity.
For my own preferences and adoption of Kimball Methodology, this layer includes the following implementations:
Data Type (Explicity) Definitions

Data Cleaning

Column renaming [Optional, and can be in STAGE Layer]

JSON Unpacking (Feature in Snowflake)
Here's a visual example, with a subsequent breakdown: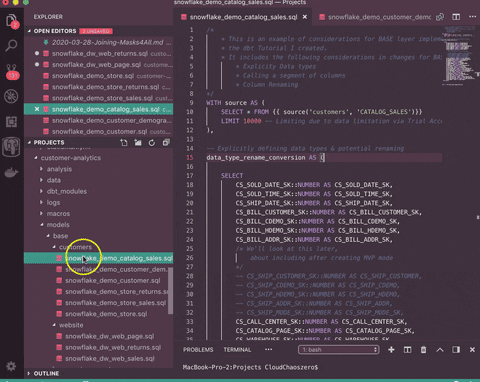 dbt run --models tag:website_info 

# As well


dbt run --models tag:customer_info

Tags are implemented in the raw_schema.yml file
3.2. Base Tables - The Implementation¶